Apprenticeship
Build Your Career in the Sheet Metal Industry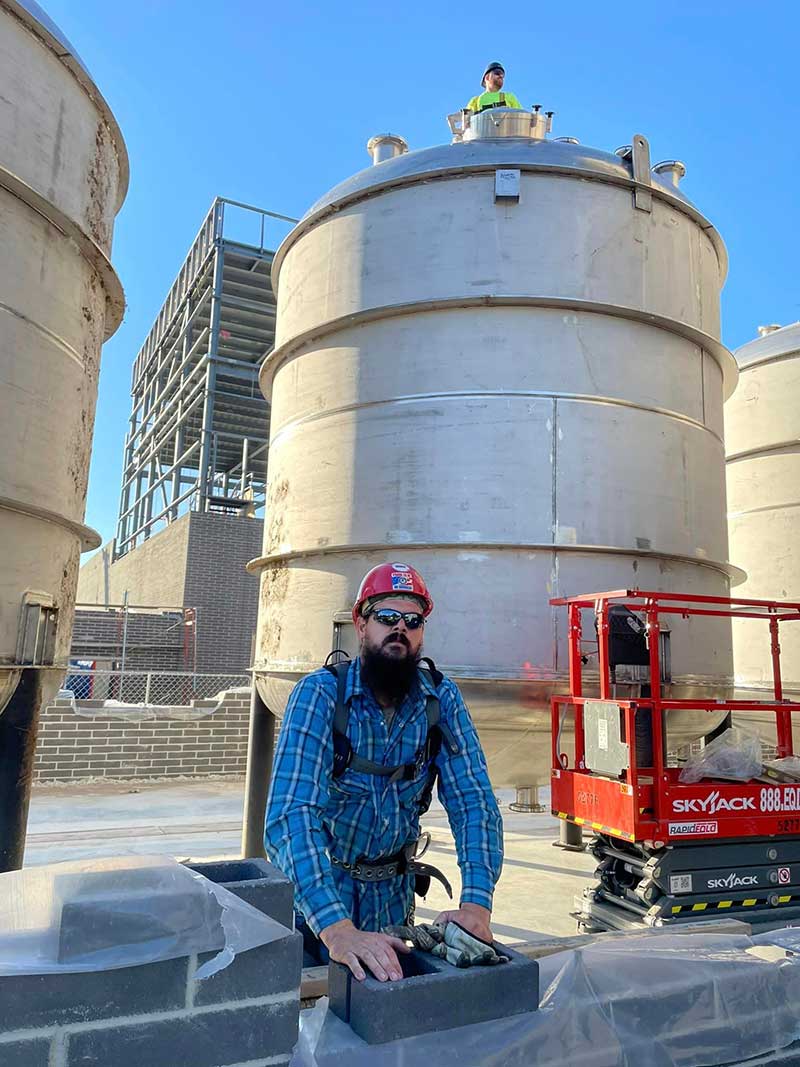 Life isn't meant to be spent behind a desk. Find your ideal career in the sheet metal industry. Sure, you may get your hands dirty, but at the end of the day, you'll enjoy a comfortable lifestyle and the satisfaction of a well-done job.
As a sheet metal worker, you'll benefit from great pay, great benefits, and the freedom to work on various exciting projects throughout the region. How many professions can offer all that?
Before you can go to work, you need the right training. The best training available from the two organizations that know sheet metal best – Sheet Metal Workers Local 110 and Kentucky Sheet Metal Contractors Association, KSMCA. Together, we created the Sheet Metal Workers Training School, Kentucky's premier apprenticeship and educational program.
The Training Ground for a Growing Field
Knowledge passed from journeyman to apprentice. It has been the foundation of Sheet Metal Workers Local 110.
Local 110 takes tradition one step further by offering apprentices a place to get the best training from the best instructors using the best technologies in the field. At this same place, experienced journeymen are offered the ongoing training they need to stay on top of the latest sheet metal technologies and stand out in the field.
Sheet Metal Apprenticeships Start Here
The Sheet Metal Workers Local 110 Apprenticeship is a 4-year program. Classes are twice a month, along with On-the-Job Training and pay raises every six months.
Local 110 averages 65 to 75 apprentices in the program every year. Each of these apprentices receives four years of instruction combined with Jobsite experiences in the following areas:
Layout
Sheet Metal Fabrication
Computer-aided drafting (CAD)
Foreman training
AWS-certified welding
Blueprint reading
Drafting
Architectural sheet metal
OSHA Safety
Codes
HVAC Fabrication and Installation
With the right mix of training, you'll receive a comprehensive education in sheet metal you can't find at trade schools or community colleges.
Qualifications
Be at least 18 years of age.
Must be physically capable of performing the work of the trade with or without a reasonable accommodation.
Complete the application and return with the following:

Military Form DD-214, if applicable.
Note: All dates and other items from which an applicant's age could be calculated will be removed from any documents provided to the Program and will not be disclosed to the Committee.

Score a minimum of 25 on the math portion and a minimum of 28 on the reading portion of the test survey.
Submit to a background check.
Appear for an interview when notified.
If you are accepted into the Sheet Metal Apprenticeship Program, you will be required to
Take and pass a drug-screening test.
Take a physical examination if prescribed by the Local JATC.
Serve a probationary period of one hundred twenty (120) days.
Be regular and punctual in reporting for work/training and in proper work clothing.
Provide your own transportation to and from the jobsite.
Work/train under the direction of a Journeyperson and perform the work and responsibilities assigned you in a satisfactory manner.
Attend related instruction classes regularly and maintain an acceptable average of seventy (70) percent or above in those classes.
Purchase material for those related training classes as required.
Abide by all current rules and regulations and any future rules and regulations adopted by the JATC.
Continuing Education
Journeymen must undergo a minimum of 6 hours of continuing education classes every year to keep their HVAC licenses current.